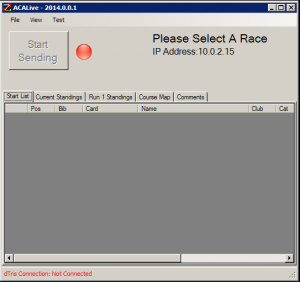 ACALive is used to interface dTris to AlpineCanadaLive Live Timing website.
This allows you to:
Automatically Send new results to AlpineCanadaLive
Rename Intervals on AlpineCanadaLive to reflect your hill
Send Comments to the Viewers
Version
Whats new in 2.0.1.0
1. Fixed issue where speed trap would not show on course map
2. Fixed issue with lodge display configuration changes
3. Changed installer to conform with other MEC Timing Products
4. Migrated to non yearly version numbers
Whats new in 2017.0.1.0
Added NPS to Racer Type
Fixed Bug that in very rare cases a racers times would not be transmitted from dTris.
Whats new in 2017.0.0.0
Added Best Of Race Upload for Other Race Types
Whats new in 2016.0.1.0
Fixed Error on Lodge Display Changing Parameters
Fixed Error when race is created without password
Whats new in 2016.0.0.2
Added Lodge Display Control
Whats new in 2015.0.0.15
Hover over colour circle for troubleshooting information
Made dTris Communication more robust
Fixed logging when moving from one codex to another
When sending data with default names it will check to make sure that you really want to send the data
If race is getting all data from dTris and not sending to website it will ask if you would like to start sending
Whats new in 2015.0.0.6
Performance improvements between dTris and ACALive
Whats new in 2014.0.0.5
Added MEC Race Type
Fixed Program not responding
Whats new in 2014.0.0.4
Slow Connection Timing out
Whats new in 2014.0.0.3
Fixed Issue with null null Racers
Fixed Connection Drops causing crash
Whats new in 2014.0.0.2
Networking could not handle multiple packets at once.
Whats new in 2014.0.0.1
It includes the functionality:
Hotswap Race Codex's

Send Comments to AlpineCanadaLive
Transmit Data to AlpineCanadaLive
"Commentator Screens" to allow for commentator to keep on top of what is happening within the race