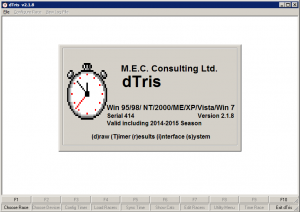 dTris is the software used during a race to manage racers coming down the hill.
This software includes:
Running of a Dual or individual Race
Configurable to 5 Intervals and 7 Speed Traps
1 or 2 Run Races
Automatic Notification of possible errors
15+ External Timers Supported
9+ External Display Boards Supported
2 different Display boards Supported on a Race
DNF,DNS hotkeys
Version
dTris 2.2.12
1. Adds Automated update checking. This checks for updates on dTris start up. Clicking Yes will close dTris and download the latest installer. Clicking No will allow for continued operation on the current version.
dTris 2.2.11
1. Fixed issue sending wrong data to ACALive on switching between multiple Race Files
2. Migrated to automaticly starting Installer on dTris Install.
dTris 2.2.10
1. Parallel SL added creation of backup before round robin
2. Parallel SL added ability to invert qualification rounds
dTris 2.2.9
Fixed Incorrect Racer Names on SX Ladder When Bib/Rank do not match.
dTris 2.2.8
Fixed Best Of Ranking for Display
dTris 2.2.7
Added NPS to Edit Racer Screen
dTris 2.2.6
Change made to correct Best of Display Error if no category.
dTris 2.2.5
Changed the RTNM Board so that it can run at 2400, 4800 and 9600 Baud
dTris 2.2.4:
Added 4800 for Display
dTris 2.2.4:
Corrected some Log reported print out errors
Fixed DSQ Run 2 Entry Error Message that was reported
Changed the ALGE S4 ( Printer Port ) to work properly with the new ALGE S4
Changed dTris so that it Transmits the Roster to ACALive every time a pulse occurs
dTris 2.2.3:
Fixed small bug in display board test with RTNM Board
Fixed small SX race bug.
dTris 2.2.2:
Fixed competor report bug when racer is a late entry
dTris 2.2.1:
Added Capability for Super Combined as well as Alpine combined To work (either one)
Changed Analysis of Competitors Report to allow either Sort by Bib Number or Finish Rank
dTris 2.2.0:
dTris now handles Ski Cross in conjunction with Measures.
The "New Race" drop down from the "File" now displays the folder area and waits for the User to indicate what folder they want the New Race file created in. The file name then must be entered at the bottom of the display.
Now when starting the second run dTris request whether the User wishes to make a copy of the file before continuing on with the creation of the second run. This gives the users a backup in case something goes wrong with the layout of the second run.
Once in the second run the Chng Lmts F3 key has some new Display Board functions. The User can request the Display to show the sum of Run 1 and Run 2 while displaying the running time. The User can request the Display to show the BESTOF results. The running time shows only Run 2 but when the Racer Crosses the Finish the best time is Displayed – either Run 1's or Run 2's time.
dTris 2.1.9:
F6 Function on the setup screen now contains the CODEX Number along with each categories Bib numbers.
Log has been enhanced to describe in more detail when False Finish occur and are corrected.
When preparing the output file with the times for Measures or when times are sent directly to Measures on the same computer dTris now checks whether all Racers in the Category have times, if they do not dTris asks whether to mark them as DNS or DNQ or do nothing.
dTris has had a new timing function added which is call "SHFT F" and Move Finish. The purpose of this new function is a follows. If a finish pulse is generated which finishes the Racer on course then the Racer that was on course actually finishes which finishes the Racer who is still on course and should remain on course. Clicking on the "SHFT F" Function or actually holding down the Shift key and typing an "F"or simply dragging the last racer in the finish on top of the second last Racer dTris will apply the finish pulse of the last Racer to the second last racer in the finish. It will then place the last racer in the finish back on course and await that Racer to finish properly. Please note dTris will not complete this until you have approved the action.
dTris 2.1.8:
Added capability to use REC13.xxxx Codexes for Recreational Races ( Non Point Races )
dTris was changed so that one can run dTris twice on the same computer with two different comm ports with two channels for one version and two different channels on the second version. One must tell each copy of dTris to ignore the pulses associated with the other copy of dTris. This allows you to run parallel races with any Category association that one might wish to have One version of dTris is the blue course the other version of dTris is the red course.
dTris 2.1.7:
Added capability to INVERT Run 1 order in Parallel Races
Fixed drag and drops of Parallel Racers when crossing onto the wrong course
Fixed a problem with the Rank calculation for the Iconic output.
Change made so that multiple categories with different codexes transmit to the ACALive.
Tag HL960 / 990 display boards added to the Display Board Lists
Corrected write bug in SKI Cross Heat Process command for Ladies 8 Heats
dTris 2.1.6:
This version of dTris is required to work with the new version of Measures that also accommodates the changes required beginning with the 2012-2013 Ski Season.
This version has been changed to handle the new Racer categories U6-U10, U12, U14, U16, U18 and U21.
This version now can facilitate two completely different versions of Display Boards to be run simultaneously by providing access to two RS232 ports one for each Display Board.